There is an on-going debate in the industry about the efficiency of different air conditioning units namely,
Window A/C
Split Type (single and multi split)
Ducted
This article discusses the advantages and disadvantages of these different aircon unit types. Read on to learn more.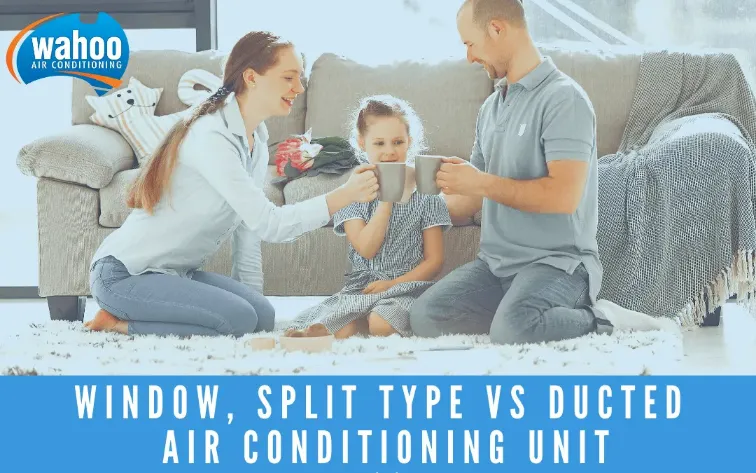 Window A/C: Upfront cheap and easy to install
Window A/Cs are upfront cheap and quicker to install, compared to other types of air conditioning systems. However, the fact is it is the least energy efficient type of A/C unit, today.
Oh and did we mention the noise these A/C units produce?
Split Type Air Conditioning Systems: Energy efficient
Some believe that a split type air conditioning system is the most energy efficient amongst these three. This has made it the most common choice of many Brisbane office and homeowners.
But we say that this may not always be the case.
In fact, it brags of the following benefits:
reasonable installation costs
sufficient cooling power
high levels of energy-efficiency
However, this will never be the case with a large, open office space. You may choose the largest split system, but it will still not be sufficient to adequately cool it. Thus, the need for multiple split systems.
What happens if you have several split systems installed in your office?
You consume more power.
What's the verdict?
If you are cooling a small open office space or home, then choosing a split system may indeed be the best option. But if it requires more than one split system, then you may opt for a ducted system.
Multi-Split Systems: Perfect for homes with small rooms
This is a scaled down Split air conditioning system. It works perfectly for homes with small rooms that requires cooling, perfect for limited space for outdoors units.
Thus, it is always best to work with a professional and knowledgeable air conditioning company in Brisbane who have years of experience. Doing so, will save you a lot of headaches and reduced energy bills.
Ducted Air Conditioning System: Ideal for large space areas
Some office and homeowners shy away from ducted air conditioning system because of the knowledge that it can drive your summer energy bill?
Although true that ducted systems use more electricity, but this is the best option for large spaces because they also are more powerful.
How?
Read our next blog as we discuss the many benefits a ducted system for large areas can deliver.