If you're in the market for a new air conditioner, it's important to decide whether you need a commercial or residential model. Both have their pros and cons, but depending on your needs, one may be better for you than the other. Here's a look at the key differences between commercial and residential aircon installers in Brisbane.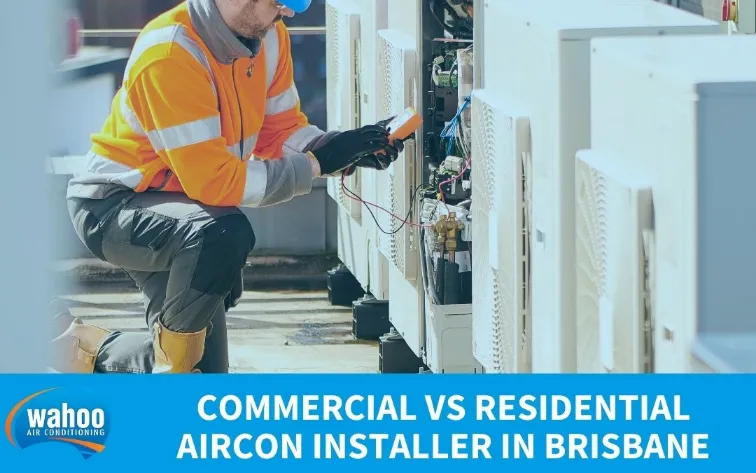 What is the difference between commercial and residential aircon installers?
Installing an air conditioning unit in Brisbane can be a big decision. It's important to weigh your options and decide what type of AC unit is right for you. There are two types of AC installers: commercial and residential.
So, what's the difference? Let's take a closer look.
Residential aircon installers are typically used in homes, while commercial aircon installers are used in businesses.
Residential aircon installers typically have a lower price point than commercial aircon installers.
Commercial aircon installers often have more features and options than residential aircon installers.
Residential aircon installation is often less complex than commercial aircon installation.
Commercial air conditioning systems are typically larger than residential systems in Brisbane.
What are the benefits of hiring a commercial aircon installer?
Commercial air conditioning is a vital part of any business. It keeps your employees comfortable and productive in the summer months, and it can also help reduce your energy costs.
So, if you're thinking about installing a new air conditioning system in your business, it's important to carefully research your options. One option you may want to consider is hiring a commercial aircon installer. Here are some of the benefits of doing so.
They have experience with commercial units and know how to install them properly.
They can ensure that the unit is sized properly for your space and meet all of your needs.
They can help you choose the right unit for your budget and needs.
They can provide warranty and post-installation support services.
They can help keep your energy costs down by ensuring that the unit is installed correctly and functioning properly.
How do you know which type of installer is right for you?
All business owners want to save money, and one way to do that is by installing an air conditioner yourselves. But before you do that, you need to decide what type of aircon installer you need. There are two types: the commercial or residential.
So how do you know which type of installer is right for you? Consider these tips:
Decide what type of aircon you need
Do your research on different installers
Compare quotes from different installers
Decide which among them you really need
Our Thoughts
Aircon installation is a complex process that should only be done by a professional because they have the experience and expertise to get the job done quickly and efficiently. This will ensure that your aircon unit runs smoothly and lasts for years to come.
Aircon installers can also help you choose the right unit for your home and lifestyle. They can provide tips on how to save energy and money on your cooling costs. Finally, aircon installers offer peace of mind – you know that the job has been done correctly and safely.
Here at Wahoo Air Conditioning, we are licensed and skilled to install either residential or commercial air conditioning units. Talk to us to schedule an appointment.